I AM ACCEPTING CLIENTS AT THIS TIME AGES 20-65+
Have you been neglecting your own needs? Are you contemplating on changing? Do you have difficulty making decisions in a relationship? Do you struggle identifying your own emotions? Is it hard for you to communicate your wants and needs in a relationship? Do you seek validation on others more than seeking it within yourself? Do you lack trust in yourself and have poor self-esteem? Do you fear abandonment and rejection? Do you feel as if you have an exaggerated sense of responsibility for the actions of others?
If you identify as an empath or highly sensitive person, chances are takers are drawn to you. Takers are emotional vampires that drain us of our energy and leave us feeling emotionally exhausted. They have a parasitic quality in that they produce emotional reactions in others and "feed off" their emotions as well as resources. Welcome to my website and I'm glad you're here.
I use Brainspotting, person-centered therapy, CBT, Expressive therapies, Nature Therapy, and Self-Compassion therapy approaches to help you learn how to protect yourself from people who have ill-intentions. I will teach you how to read people's body language and how to listen to yourself instead of seeking validation from other people.
I also work with childhood and ancestral trauma's using Brainspotting Therapy. Brainspotting is a form of therapy that captures the trauma inside the brain by looking at a spot. Once you find a spot, the eye movement on the spot melts the trauma inside the brain and desensitizes the intensity of it.
Please contact me for details at (614) 662-0565.
Meet Jennifer:
Jennifer L. Bloom is a Licensed Clinical Social Worker who specializes in Brainspotting Therapy. Jennifer earned her Bachelor of Arts in Human Services in 2012 at Lynn University in South Florida. She later attended The Ohio State University and earned her Master Degree in Social Work in 2014. Jennifer has many years of clinical experience and has worked with people ages 13-65+. During her spare time, Jennifer enjoys creating art work on her balcony and enjoys cooking, learning, and staying active. Jennifer's favorite quote is by Joe Girard, "The elevator to success is out of order. You'll have to take the stairs… One step at a time."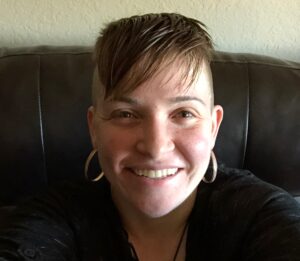 Book Your Session Now to Get Started
Click the BOOK NOW button to get started.